La Oficina is a a family owned bilingual business center serving the Hispanic community since 1999 in Raleigh, NC and surrounding towns and cities.
Guillermo Vega, the current owner joined La Oficina on 2003 and quickly fit into the operations as a trainer of new recruitments, tax preparer team leader, researcher and operations manager. Between 2003 and 2011 he was able to standardize processes, create the company's website and develop the platform to bring payroll and bookkeeping services in-house.
On 2011 La Oficina was acquired by Guillermo Vega and took over operations under a new corporate name. Since then, La Oficina has initiated an aggressive campaign to create strong relationships with other organizations and make presence in community events. Also, customer service standards as well as the employees' handbook were created.
Throughout its existence La Oficina has been acknowledged by the community as an anchor and model of a Hispanic business, for it has received the Fusion Award, as well as an award granted to Flavia Vega on 2013 who, for her role as relations manager for La Oficina and her contributions as a board member of the North Carolina Hispanic Chamber of Commerce, was recognized as Business Woman of the Year in the Excelente Awards, event organized by La Noticia, a local newspaper.
Guillermo Vega has been an instructor in many entrepreneurship events organized by The City of Raleigh and by the North Carolina Hispanic Chamber of Commerce and now, along with his wife Flavia are members of the Migrant Worker Council, a multi-agency organization created to provide for the needs of the migrant workers of North Carolina and their families.
We believe that consistent, ethical and quality services are the core values and the essence of our relationships with our employees, customers, business partners and the community, that result in loyal, long term relationships.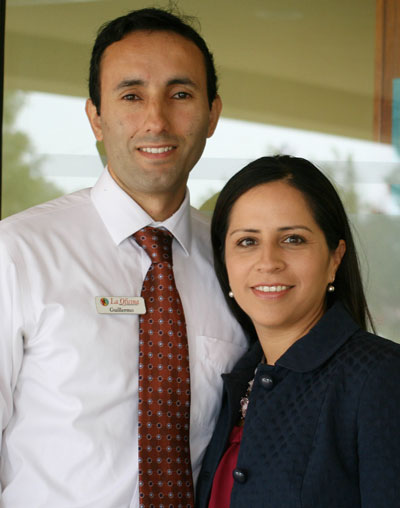 OUR MISSION
At La Oficina we pledge to provide incomparable and superior quality services as we strive to gain the respect and trust of our customers. We focus on educating and helping the growing Hispanic community through the consolidation of basic services under one roof.
At La Oficina we provide you with knowledge, tools and services in the areas of accounting, tax preparation and payroll for small businesses. We also provide document translation services, notary public, money services, international shipping and more
OUR VISION
Our vision is to positively impact the future of the Hispanics in the US. We will become the preferred and most trusted tax services provider who deeply care for the needs of North Carolina Hispanics and minority owned small businesses.
Our employees will find at our business an opportunity for a life changing career that is as exciting as significant in making a difference in a customer's life.
When we welcome our customers to our family we help them build a secure foundation of values and integration of them and their families into the American society.